The Lead Pipeline - Automatic Lead Assignment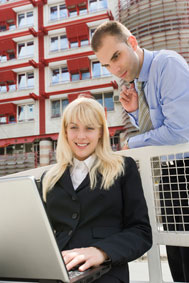 Immediately after the lead is added to the database it is evaluated for distribution to an agent. We can set up complex rules based on certain data, for example certain zip codes may go to one group and others go to a different group or we can simply move through the list on a simple rotation. We can also create rules where agents are skipped based overdue contacts with leads or other flag events within the system.
The assignment of the lead will notify the agent via email (which all agents have readily available with their Smartphone) and allows them to do a simple "Reply" to the email to accept. They can also view and accept the lead from their agent interface. Typically we give the agent a limited time to accept the lead or the lead is passed to the next agent in line. The rotation process gives agents motivation to respond quickly and give the lead the proper attention that it deserves. When the accept is authorized by the automated system, the agent will receive another email with full details of the lead so they can contact the lead immediately.
Receive a Quote Now